Event Day Volunteer
This event is made possible thanks to the help of our volunteers and sponsors. Thank you for the tremendous interest in volunteering for Guts & Glory 2020, we look forward to having you!
Sponsors, Non-Profits, & Food Vendors
Registration is closed - Thank you for your Interest in Guts & Glory, we hope to see you in 2020!
Sign up for our newsletter to be in the know...

Donate to My Gut Instinct and Guts & Glory
Are you interested in supporting My Gut Instinct and and our Guts & Glory event? We are looking for donations for swag bag items (must be able to provide enough to fill 500 swag bags for event attendees), a health-related article to be featured on our blog and in our newsletter, or monetary donations (every little bit helps!). Please complete the form below and someone from our team will be in touch about finalizing your donation. Thank YOU for all your support.
Why Sponsor This Event?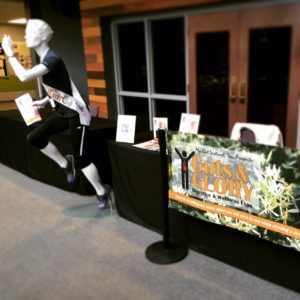 This is a marketing alliance for your company, allowing involvement in a positive high profile event that can serve as a powerful communication tool. Your company's name will be seen throughout the community, among peers and in the press, enhancing recognition of your business as a corporate and civic leader focused on the health of the community you serve, and associated with an effort that positively impacts people's lives.
High profile community event
Mass public appeal and participation
Media exposure
Positive impact on the community
An important tool in promoting digestive wellness and public education
Logo & website featured on MyGutInstinct.org
Sponsorship Benefits
Align your company's name and image with a premier civic event with mass public appeal and media exposure, and the only (and inaugural) wellness fair in the region
Reach important market segments of the community, patients and providers, men, women, and children of all ages and ethnical diversities, the health conscious and health curious and their families.
Demonstrate your company's commitment to the community
Unify employees around a positive and inspiring event
Foster and strengthen relationships with a variety of business, civic and healthcare organizations
Additional Opportunities & In-Kind Donations
Additional sponsorship opportunities include in-kind donations and reduced rates for participation in our live program, however, space is limited. If you are interested in inquiring about participation in a stage demonstration or an in-kind donation, please email: info@mygutinstinct.org.
We gladly accept donations, including items for our "swag bag", door prizes, including the grand prize, and monetary donations without exhibiting. All donations are 100% tax deductible.
Please refer to our Swag Bag Wish List if you would like to contribute.
Spirit Sponsorship - Title Sponsor
Mind Sponsorship - Venue Sponsor

Body Sponsorship
Large Business
- $50 -
8-foot exhibition (table coverings provided)
Recognition Online
Opportunity to host our mascot, Gutsy Girl, at your business
Gut Fuel Sponsorship
(Maker's Market, Small Business & Food Vendors)
-  $25 -
Two 8-foot exhibition booth space (table coverings provided) to prepare, serve, and sell your food
Recognition online
You keep 100% of the profit from your food sales
Opportunity to host our mascot, Gutsy Girl, at your business
Heart Sponsorship
(Non-Profits)
- $25 -
8-foot exhibition booth space (table coverings provided)
Recognition online