GUTS & GLORY
2020
is now a Virtual Wellness Week
September 21st – 26th*
*Facebook Watch Party on 9/26 to celebrate the 7th year anniversary of Guts & GloryClick to Learn More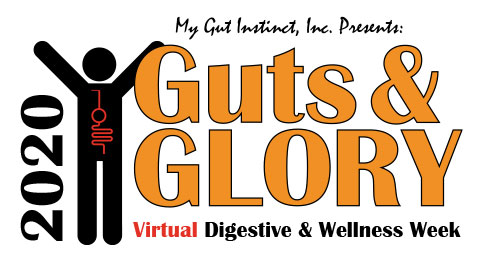 2020 Guts & Glory


*Virtual* Digestive & Wellness Week
September 21st – September 26th

*rain date: Sunday, September 27th, 1-5pm

Every year, we at My Gut Instinct, look forward to connecting with the community and sharing our mission of digestive health and wellness at our annual Guts & Glory event. Following increased and overwhelming concerns surrounding the COVID-19 virus, we've made the difficult decision to cancel the in-person event of Guts & Glory 2020. This was a tough call to make, but we need to prioritize the health and safety of the community. Right now, the most important thing is to focus our attention on helping the community and businesses with the new challenges we all face by sharing locally written health and wellness articles and a platform for businesses to share their healthy offerings. We look forward to celebrating health and wellness with you in person at Guts and Glory 2021 to be held at Willow Glen in Sept! All is not lost for this year, however, as we are planning to host a Guts & Glory Wellness Week which will feature short videos from previous/new vendors and businesses promoting healthy aspects. To conclude the week, we will host a Facebook Watch Party on Saturday, September 26th to celebrate the 7th year anniversary of Guts & Glory.

The community may stay in touch by signing up for our monthly digest:


We welcome businesses that want to participate in our virtual event to email us at info@mygutinstinct.org for more information.