Corn is a delicious and versatile vegetable, plus enormously nutritious.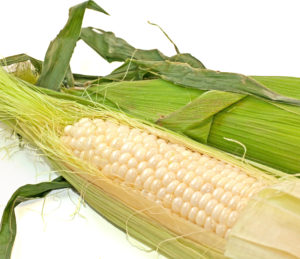 A one-cup serving of corn provides five grams of protein, which is about 10 percent of the recommended daily allowance. You'll also get four grams of fiber from one cup of cooked corn, which is 16 percent of women's and 11 percent of men's daily intake. Corn is a rich source of antioxidants, which fight cancer-causing free radicals. There are high levels of a compound called ferulic acid in corn, and anti-carcinogenic agent that has been shown to be effective in fighting breast and liver cancers. Anthocyanins, found in purple corn, also act as scavengers and eliminate cancer-causing free radicals. Corn is also a good source of folic acid, thiamine, folate, niacin, magnesium, phosphorus, zinc, iron, vitamin E, and beta-carotene.
Corn possesses several characteristics that support weight management. It is low in calories, with one cup providing just 143 calories.  About 73 percent of corn consists of water. This helps manage weight because water adds bulk without contributing any calories. As a result, you can eat a reasonable portion and get full, but still stay within daily calorie goals. Another benefit comes from the protein and fiber, both of which make you feel full and help maintain satiety for a longer period of time.
However, corn is also high enough in carbohydrates that it moderately boosts blood sugar. A one-cup serving has 31 grams of carbs, which is almost one-fourth of an entire day's recommended carb intake. It also contains large amounts of fatty acid, so for people who are already at high risk for heart disease, excess corn or corn oil can dangerously exacerbate those conditions and risks. Also, corn is frequently turned into high fructose corn syrup, which is extracted from corn to use as a cheap sweetener. It is worse than table sugar and is a cause of obesity, as well as having a negative impact on your blood sugar levels. It is found in many artificially sweetened foods and syrups, so avoid these if you want to only get the positive benefits of corn.
Try these quick ways to use corn:
1. Steamed corn: Clean fresh corn and cook in a container filled with water. Add butter, lime, salt to the cooked corn for additional flavor.
2. Soups and salads: Add cooked corn kernels to salads and soups for additional flavor. Mix chopped onion, tomato, lettuce, cooked corn kernels in a bowl. Season with salt, pepper, lime juice, and olive oil.
Corn is a rich source of many essential nutrients and fiber and can go a long way in protecting against many diseases and ailments. So start shucking, and enjoy the benefits of cooked corn.
---
CRABCAKES WITH FRESH CORN SALSA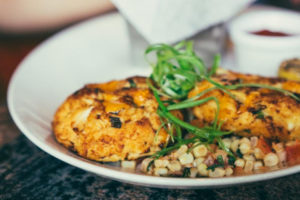 Source: Health.com
Ingredients:
Crab cakes:
1 pound shredded lump crabmeat, drained and shell pieces removed
1 1/2 cups fresh whole-grain breadcrumbs, divided
1/4 cup fat-free mayonnaise
3 tablespoons chopped fresh chives, divided
2 tablespoons fresh lemon juice
2 large egg whites
1/2 teaspoon salt
1/4 teaspoon ground red pepper
1/4 teaspoon freshly ground black pepper
2 teaspoons canola oil
Corn salsa:
3 ears corn
1 cup cherry tomatoes, halved
2 tablespoons reduced-fat balsamic vinaigrette or Italian salad dressing
Preparation
1. To make crab cakes, combine crabmeat, 1 cup breadcrumbs, mayonnaise, 2 tablespoons chives, juice, egg whites, salt, and red and black peppers. Mix well and shape to form 8 patties ((1/2-inch-thick). Patties may be covered with plastic and refrigerated up to 4 hours before cooking.
2. To make corn salsa, cut corn kernels from cobs; transfer the kernels and any milky juices to a small bowl. Add tomatoes, 1 tablespoon chives, and dressing; mix well.
3. Heat oil in a 12-inch nonstick skillet over medium heat until hot. Dip crab cakes lightly in 1/2 cup breadcrumbs. Add crab cakes to hot skillet; cook 5 minutes per side or until golden. Transfer to plates; top with corn salsa.