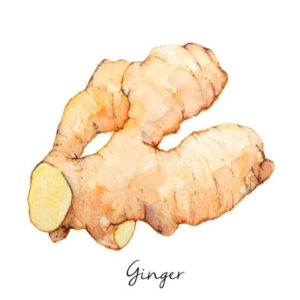 Ginger has been shown to reduce nausea and vomiting from multiple causes, including morning sickness, postoperative nausea, chemotherapy treatment, and motion sickness. Gingerol, the main bioactive compound in ginger, is responsible for its distinct aroma and also its anti-inflammatory and antioxidant effects.
Its phenolic compounds can prevent gastrointestinal irritation, improve appetite, stimulate bile and saliva production, reduce flatulence and regulate the movement of food through the digestive tract. It has direct anti-inflammatory effects in reducing muscle and joint pain.
Ginger is diaphoretic, which means that it warms the body from within and promotes sweating, which is useful when you have a cold or flu. It clears the 'microcirculatory channels' of the body, which include the sinuses. It has been also been shown to lower cholesterol and blood sugar levels, and reduce the ApoB/ApoA-I ratio and markers of oxidized lipoproteins, two major risk factors for heart disease.
Ginger's ongoing health benefits are continuing to be explored. Researchers are studying this versatile spice as a targeted treatment against the growth of certain cancers, including colorectal, gastric, ovarian, liver, skin, breast and prostate cancer.
Try this recipe and you'll see how ginger adds a big zing without any extra calories.
---
Braised Grouper with Ginger, Shiitake Mushrooms, and Chiles
Ingredients
4 6-ounce grouper fillets
Salt and pepper
1 tablespoon vegetable oil
4 cups vegetable stock
2 heads baby bok choy, leaves separated
12 shiitake mushrooms, stems removed
2 tablespoons soy sauce
2 teaspoons minced ginger
2 teaspoons thinly sliced green onion
2 teaspoons thinly sliced red jalapeño chile
2 teaspoons toasted sesame oil
Preparation
1. Season fillets with salt and pepper. Heat a frying pan (not nonstick) over medium-high heat; add oil, then fillets. Cook until fillets start to brown on one side, about 2 minutes. Flip fillets and reduce heat to medium. Add stock, bok choy leaves, mushrooms, soy sauce, and ginger. Cover and cook until fish is opaque in the center, about 3 minutes.
2. Divide fish, mushrooms, and bok choy between 4 deep, wide soup plates. Pour stock over fish and vegetables (depending on size of your plates, you may have extra stock). Garnish with green onion and jalapeño and drizzle with toasted sesame oil.