By Dale Ashley of Academy of Massage and Bodyworks
Massage therapy has many benefits, particularly during the cold harsh winter months. Colder weather tends to bring on many discomforts including aches, pains and arthritis, not to mention winter colds, sinus infections, seasonal depression and the dreaded flu.
Massage has many wonderful benefits, and in the winter months, this is no exception. Massage therapy helps to boost the immune system. Massage increases lymph flow which is packed with white blood cells. These cells fight off infections and bacteria, boosting your immune system during this time of year where many of us get sick.
If you suffer from dry skin during the colder months, try massage. Massage therapy is proven to improve skin hydration during dry winter months. Oils and lotions used in massage contain healthy amounts of vitamin E and other vitamins. Massage improves circulation, allowing your skin to absorb these essential vitamins, leaving you feeling nourished and hydrated. Massage therapy also increases circulation to muscles, joints, and organs, warming up the body. Regular massage enhances blood flow, naturally lowering blood pressure and improving body function.
During the colder months that have shorter daylight hours, many people suffer from seasonal depression, often referred to as the winter blues. Winter months decrease our opportunities to do our favorite activities, and this can increase depression. It's cold outside, and most of us don't like it. Massage therapy is not a "cure" for depression, but regular massages enhance warmth and an overall state of well-being. Massage therapy releases serotonin and endorphins, relieving stress and making you feel better. Beating the winter blues can be as simple as booking an appointment with your massage therapist.
Massage can help to alleviate holiday and post-holiday stress. Don't let your to-do list ruin the most wonderful time of the year. Massage therapy has been shown to help address stress and anxiety while simultaneously addressing some of their physical repercussions. Massage can also help to relieve low back pain. Whether back pain stems from holiday travel or shoveling snow, research has shown that massage therapy provides superior functional outcomes and symptom improvement over those who do not utilize massage.
And, massage can help to alleviate headaches. Tension headaches aren't on anyone's wish list. Research indicates that those who receive massage therapy experience a decrease in the physical pain as well as the emotional distress associated with the headache.
Hot Stone Massage Techniques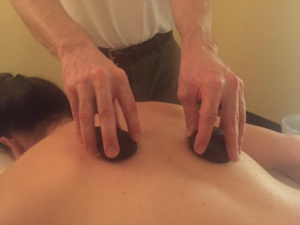 Hot stone massage is an often requested massage therapy service and is especially popular in the fall and winter months. Hot stone therapy is an effective way to relieve stiff sore muscles and bring about relaxation and stress relief.
Massage with the use of hot stones has some alternatives that you may not be aware of. The use of textured stones can bring additional relief. Textured stones are rounded or oval river rocks that have been worn semi-smooth by water. The rocks are heated and oiled. The stones are used in a Swedish-style massage.
The use of textured stones can help the client feel relaxed and energized by the treatment. Another technique is the alternation of smooth stones such as basalt with textured stones. The heated smooth stones are placed on the table. The client lies down on top of the stones. Additional stones are placed on the front side of the client. The textured stones are used as tools for gently rubbing away tension.
Alternating heated stones with cooled stones is also a popular technique. Heat brings blood to the area being treated while cold causes blood to leave the area. This massage technique has been found to increase blood and lymph circulation and to increase tissue oxygen intake. Stone massage is an excellent therapy for treating both muscular tension and stress.
The use of hot stones for healing dates back to ancient times. The heat relaxes muscles, allowing the therapist to work without using deep pressure. Hot stone massage will help the client with back pain and aches, poor circulation, osteoarthritis pain, stress, anxiety and tension, insomnia and depression.
What you can expect during a massage of any type
You don't need any special preparation for massage. Before a massage therapy session starts, your massage therapist should ask you about any symptoms, your medical history and what you're hoping to get out of massage. Your massage therapist should explain the kind of massage and techniques he or she will use.
In a typical massage therapy session, you undress or wear loose-fitting clothing. Undress only to the point that you're comfortable. You generally lie on a table and cover yourself with a sheet. You can also have a massage while sitting in a chair, fully clothed. Your massage therapist should perform an evaluation through touch to locate painful or tense areas and to determine how much pressure to apply.
Depending on preference, your massage therapist may use oil or lotion to reduce friction on massage your skin. Tell your massage therapist if you might be allergic to any ingredients.
A massage session may last from 10 to 90 minutes, depending on the type of massage and how much time you have. No matter what kind of massage you choose, you should feel calm and relaxed during and after your massage.
If a massage therapist is pushing too hard, ask for lighter pressure. Occasionally you may have a sensitive spot in a muscle that feels like a knot. It's likely to be uncomfortable while your massage therapist works it out. But if it becomes painful, speak up.
Finding a massage therapist
Ask your doctor or someone else you trust for a recommendation. Most states regulate massage therapists through licensing, registration or certification requirements.
Don't be afraid to ask a potential massage therapist such questions as:
Are you licensed, certified or registered?
What is your training and experience?
How many massage therapy sessions do you think I'll need?
What's the cost?
Academy of Massage Therapy and Bodyworks is a state-licensed massage school located in Pottstown, dedicated to the continuing education of individuals to provide the healing power of massage therapy. Students are trained in anatomy and physiology of the human body, massage theory and history, and hands-on practice in Swedish, therapeutic, sports, reflexology, pregnancy, and medical massage disciplines, with the ultimate achievement of licensure to practice as a massage therapist in Pennsylvania. They also offer massage services at low rates, giving the students the opportunity to practice and provide massage. Check out their Facebook page: https://www.facebook.com/Academy-of-Massage-Therapy-Bodyworks