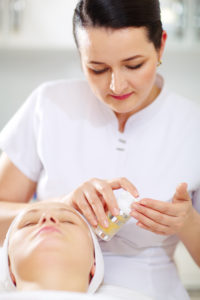 As the largest organ of the body, your skin not only absorbs lots of nutrients, but it can also take in many toxins each day. Since your skin acts as your body's barrier against those toxins, it's so important to be aware of just what you're using on your skin. If you're putting dangerous ingredients on your skin, those are also getting into your body where they don't belong.  Chemically laden products with synthetic ingredients can cause unpleasant skin reactions.  In contrast, a recent study suggests using natural ingredients for skin care can help treat hyperpigmentation and inflammation, while another observed that natural ingredients can combat photoaging (skin damage caused by the sun's rays over a lifetime).  Many of us can use up to 10 skin care products each day; everything from moisturizers and cleansers to fragrances and deodorants; and we should be choosing those with the fewest irritants, and unwanted and potentially harmful chemicals and preservatives.
One of the biggest benefits of plant-based ingredients in natural skin care, is that botanicals are often rich in natural antioxidants, vitamins, and emollients that deliver powerful benefits. Edible plant ingredients are also familiar to the body and less likely to induce skin irritation and are safe for sensitive skin types.  Even better, plant ingredients often come from renewable resources that are Earth-friendly.
Plant-based beauty products harness the natural power of botanicals and are nutritional for the skin. So embrace your skin's nutritional needs this new year and try natural plan-based skin products!
---
Homemade Non-Toxic Natural Deodorant
Recipe submitted by RaeAnn Roth  of Reading, PA
 Ingredients
1/3 cup coconut oil
¼ cup cornstarch
4tbsp baking soda
10-12 drops of any flavor essential oil (such as sweet almond, lavender, tea tree, orange)
Preparation
Mix soda and cornstarch.  Blend with the coconut oil until moist. Mix in the essential oil.  Put mixture in a small container like a jar. You can harden for a little while in the fridge if a firmer consistency deodorant is desired, and even store the jar in the fridge during  warmer months, since coconut oil melts in warmer temps. When ready to use, smear with two fingers onto your underarms for happy armpits that smell wonderfully! Wait two minutes before dressing to avoid smearing on your clothes. Note this is NOT an antiperspirant, which in the main ingredient that causes pit stains on your shirts.
Save