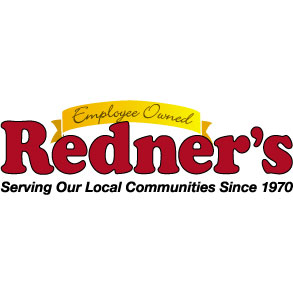 On March 1, 1970, Earl and Mary Redner placed their savings and faith into Earl's dream to open a grocery store, and run it his way.  Forty five years and 53 stores later, Earl's purchase of two failing stores has blossomed into the fulfillment of his dream to operate a successful family, employee, and locally-owned company throughout Eastern Pennsylvania, Maryland and Delaware.
Redner's prides itself on being an adaptable and flexible company, able to accommodate to industry changes. Redner's was the first supermarket in Pennsylvania to have scanners, the first to have a recycling program, one of the first to have in store pharmacies, salad bars, and the first employee-owned supermarket in the United States.
Redner's is committed to supporting the local community in which each Warehouse Market and Quick Shoppe is located, through a variety of supportive partnerships, community outreach, and enrichment programs.
Through their Healthents program, featuring dietician Meredith Mensinger, RD LDN, Redner's is dedicated to improving the well-being of their customers.  This program offers consumers practical nutrition and lifestyle advice for incorporating a wide variety of foods in a healthful diet and lifestyle, and making healthy choices that are affordable and easy to apply to everyday life.
We are honored and proud to call Redner's a community supporter and sponsor of Guts and Glory!
Save