By Erica Wennell, My Gut Instinct and Sun Federal Credit Union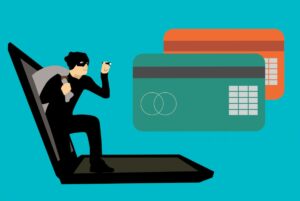 Holidays are a busy time for shoppers and hackers alike. For all the convenience of online shopping through websites or apps, there comes great risk.  Identity theft is an increasing problem with imposters collecting personally identifiable data available for sale by hackers.
Every two seconds an American becomes a victim of identity theft.  If the thought of having to clean up your credit report because someone stole your identity frightens you, and you don't want to become another statistic; here are some tips to stack the odds in your favor.
A winning night can turn into a nightmare really quickly, if your wallet is lost, or stolen, especially if personal information like your social security card is in there. Do not carry your social security card. And, just as importantly, make copies of all your cards. That way, if they're stolen you can report it fast, and accurately.
You can bet that if you use easy-to-guess passwords and PINS—like your house number, or birth date—some hacker will figure it out. Use a mix of symbols and numbers, and upper and lowercase letters.
Use your instinct. If an overly generic email address doesn't look legit, don't reply, and don't click on any links. Go to your account log-ins manually using a bookmark, or typing the URL.
Technology has advanced to where most online websites offer secure shopping. But if they don't, savvy criminals can capture everything you enter into a form on those sites, including your personal data and credit information. Limit yourself to secure sites. You can tell if a site is secure by the URL. A secure website address starts with https:// instead of http://. Secure sites also have a small lock icon to the left of the URL.
Know that your credit union (such as Sun Federal CU) will never call, or email asking for your social security number, or birth date. If a business, or individual asks for personal information, passwords, or credit card numbers–do not give them. Instead, call any financial institution requesting information directly at a number you know is legitimate
Do your online shopping at home on your computer or smartphone. At home, you know who accesses the device. If you're using a public computer or network to do your shopping—at the library, an internet café, or at work—you have no control over who also might be using that device or network and you also have no control over what kind of spyware or malware might be infecting that computer. Therefore, it's much safer to shop at home where you know both the device and your network are secure.
Make sure all your electronic devices are as secure as possible by updating your operating systems, software and browsers; being up to date will minimize chances of being hacked. Also, password-protect all of your devices, so that if stolen, logging in will be more difficult.
Some of the easiest targets for identity thieves are home trash bins. Shred invoices, financial statements, or any other personal type documents. Don't just toss them; shred them.
Check your online banking accounts and credit reports regularly. There are three credit-reporting bureaus…a trifecta-for analyzing your activity. Check a different bureau every four months at com. If you see anything suspicious, report it.
Don't let the benefits of online shopping make you lazy. Take the time to shop securely; and use extreme caution with the sites where you choose to shop. Follow all these steps so your odds of being a victim of identity theft will drop dramatically. This way, you can find great deals without the fear of your identity being stolen in the process.