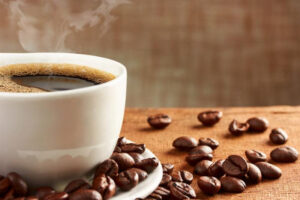 Coffee is the morning pick-me-up for millions, increasing wakefulness and improving concentration and focus. However, coffee may offer more than just an energy boost in the morning, and emerging evidence suggests that coffee offers multiple health benefits.
Researchers at Harvard found that increasing coffee consumption to an average of 1.69 cups per day over a 4 year period had an 11% lower risk for developing type 2 diabetes. Higher coffee and caffeine intake has been associated with a significantly lower incidence of Parkinson's disease and improved movement control in Parkinson's patients. Coffee consumption is associated with a 40% decreased risk of liver cancer, a 22% decreased risk of cirrhosis in alcohol users, and a 66% decreased risk of death in cirrhosis patients. Drinking 16oz a day offers protection against the development of heart failure. Four cups a day decreased the risk of melanoma by 20%.
Caffeine also has neuroprotective and anti-inflammatory properties that can decrease the risk of multiple sclerosis. Drinking coffee everyday, even decaf, may lower the risk of colorectal cancer. Most compelling, in a 3 year study involving over 90, 000 patients, compared with individuals who did not drink coffee, those who consumed four to five cups daily had the lowest risk of death from various causes, including diabetes, heart disease, respiratory diseases, influenza and suicide.
According to researchers at the University of Scranton, coffee is the number one source of antioxidants in the US, present in equal amounts in decaffeinated coffee too, and this may explain coffee's health protective effects. It has been repeatedly emphasized in studies, however, that coffee should be drunk in moderation, i.e. under 3 cups a day and exceeding this amount can negate its positive health benefits.
There is more than one way to enjoy coffee. Its roasted quality, bitterness, and acidity make it the perfect complement to sweet bold, earthy, or nutty dishes, yielding an exotic taste that is both robust and complex. Coffee pairs perfectly with meat! Try making this luscious coffee based barbecue sauce to use in the following delicious barbecue chicken recipe!
---
Brown Sugar and Coffee BBQ Sauce
Source: Epicurious.com
Ingredients:
2 tbsp olive oil
1 3/4 cup chopped white onion
6 chopped cloves of garlic
2 tbsp minced and seeded jalapeno
½ packed dark brown sugar
2 tbsp chili powder
2 tbsp light molasses
2 tbsp chopped fresh cilantro
1 tsp ground cumin
28oz can of crushed tomatoes with added puree
1 cup low salt chicken broth
1 cup freshly brewed strong coffee or 1 tbsp of instant espresso coffee powder dissolved in 1 cup hot water
Preparation:
Heat oil in heavy large saucepan over medium-high heat. Add onions, garlic, and jalapeño; sauté until onions are tender, about 7 minutes. Add brown sugar, chili powder, molasses, cilantro, and cumin; stir until sugar dissolves. Stir in crushed tomatoes with puree, broth, and coffee; bring to boil. Reduce heat and simmer uncovered until sauce thickens slightly and is reduced to 4 cups, stirring often, about 35 minutes. Season sauce to taste with salt and pepper. DO AHEAD: Can be made 1 week ahead. Cover and chill.
---
Barbecue Chicken Hoecakes with Vinegar Slaw
Source: Epicurious.com
Ingredients:
CHICKEN
1.5lbs boneless skinless chicken thighs
Olive oil
BBQ sauce above
HOECAKES
1 cup yellow cornmeal
½ cup all purpose flour
2 tsp sugar
1tsp baking powder
¾ tsp salt
1 cup water
2 tbsp melted butter
¾ cup coarsely grated cheddar cheese
VINEGAR SLAW
2 cups thinly sliced fennel bulb
1 ½ cups thinly sliced red onion
1 ½ cups matchstick carrots
½ cup chopped fresh Italian parsley
1/4 cup olive oil
¼ cup Sherry wine vinegar
1 tsp sugar
Preparation:
For chicken:
1. Prepare barbecue (medium-high heat). Spread drained wood chips in disposable foil pan. Remove grill racks from barbecue. Place foil pan with wood chips directly atop hot coals (for charcoal barbecue) or over flames (for gas barbecue). Return grill rack to barbecue. Brush chicken with oil; sprinkle with salt and pepper. When wood chips begin to smoke, place chicken on grill rack above pan with wood chips. Cover grill and smoke chicken until cooked through, turning occasionally, about 18 minutes. Transfer to large bowl and cool slightly. Shred chicken into bite-size strips; place in same bowl. Mix 2 1/2 cups barbecue sauce into chicken. DO AHEAD: Can be made 1 day ahead. Cover and chill. Rewarm chicken in barbecue sauce over medium-low heat before using, adding more barbecue sauce to moisten mixture, if needed
For slaw:
1. Toss first 4 ingredients in large bowl. Whisk oil, vinegar, and sugar to blend in small bowl. Season to taste with salt and pepper. Add dressing to vegetable mixture and toss to coat. Season with salt and pepper. Cover and refrigerate at least 1 hour and up to 3 hours, tossing occasionally. Toss to blend before using
For hoecakes:
1. Preheat oven to 300°F. Mix first 5 ingredients in medium bowl. Add 1 cup water and melted butter and whisk until well blended. Heat griddle or large nonstick skillet over medium-high heat. Brush with additional melted butter. Working in batches, pour batter by 1/4 cupfuls onto griddle. Using back of spoon, immediately spread batter for each cake into oval shape about 4×21/2 inches; cook until bottom is golden brown, about 2 minutes. Turn cakes over and cook until bottoms are golden brown, 1 to 2 minutes longer. Place hoecakes on baking sheet and transfer to oven to keep warm while making remaining cakes. Place 2 hoecakes on each of 6 plates; sprinkle 1 tablespoon cheddar cheese over each cake. Top each with warm chicken in barbecue sauce. Spoon Vinegar Slaw atop chicken and serve.