Choosing healthier foods is easier than you think.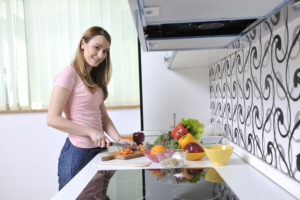 By altering a few eating habits, you can make a big difference to you diet and is the most achievable way to lose weight. For our longevity and long term health, we are all encouraged to make healthier choices to help cut the excess saturated fat and sugar from our diets. Try these healthy swaps to save you calories and help you slim down.
1. Swap sugary drinks for sugar-free or diet options, 100% juices without added sugar, low fat milk or water
2. Swap whole milk cheese and milk for reduced fat varieties
3. Swap regular butter for low fat spreads
4. Swap sugar-coated cereal for whole-grain breakfast cereals
5. Swap salt for herbs and spices to add big flavor without the excess sodium
6. Swap creamy or cheesy sauces for tomato or vegetable-based sauces on your pasta, meat or fish dishes
7. Swap packaged snacks for healthier fresh food in snack portions
8. Swap fat-laden meats for leaner cuts
9. Swap the frying pan for the grill
10. Swap fruit juice for whole fruit to reap the full nutritional benefit of fruit
11. Swap high fat condiments and sauces like mayo and dressings, for fat-free mustards or additive-free oil and balsamic vinegar
Finally, remember when buying pre-packaged foods, do not be misled by the promotional print on the wrapping. Instead learn to read the nutritional labels when checking for calorie, fat, salt, and sugar content.  A few smart swaps can lead to a healthier and happier life for you and your family. So what are you waiting for? Start swapping!
---
Scrambled Eggs with Veggies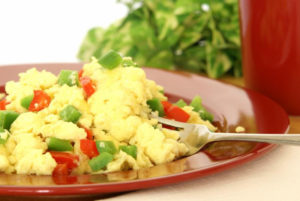 Filled with fiber, veggies will give you a longer-lasting energy boost than the empty carbs in a breakfast sandwich. Swap a bacon, egg and cheese sandwich for this healthful and hearty breakfast and save 140 extra calories!Ingredients
2 eggs
½ cup spinach
1/8 cup chopped onion
1/8 cup diced green bell pepper
1/8 cup chopped mushrooms
1/8 cup diced tomatoes
Salt and pepper
1 tsp olive oilPreparation
In a bowl, whisk the eggs and 1-2 tbsp of water. Add salt and pepper to taste.
In a small nonstick skillet, heat the oil over medium high. Add bell pepper and onion and cook until onion has browned, about 3-5 min. Transfer to a plate. Add mushrooms and tomatoes to the skillet and cook until the tomatoes have started to disintegrate and the mushrooms have softened, approximately 5 min. Now add the spinach and cook for 1-2 min until wilted. Add in the egg mixture to the skillet. Cook, stirring occasionally with a rubber spatula, until just set, about 2-3min. Top with the onion/pepper mixture and serve with whole grain toast.
Save
Save
Save