For years, a low-fat diet was touted as the key to losing weight, managing cholesterol, and preventing deteriorated health. But it turns out that more than the amount of fat ingested, it is the types of fat you eat that really matter. Bad fats increase cholesterol and your risk of certain diseases, while good fats protect your heart and support overall health. In fact, good fats—such as omega-3 fats—are essential to physical and emotional health.
The answer for a healthy diet isn't to cut out the fat — it's to replace bad fats with the good ones that promote health and well-being.
There are 4 major kinds of fat found in plant and animal foods: monounsaturated, polyunsaturated (including omega 3), trans and saturated fats.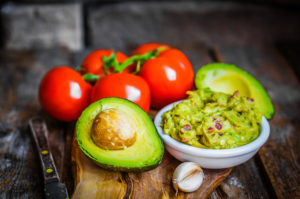 Unsaturated fats are considered "good" fats and are an important part of a healthy diet. Eating foods rich in monounsaturated (MUFA) and polyunsaturated fat (PUFA) can improve blood cholesterol levels and lower your risk of heart disease. These fats may also benefit insulin levels and controlling blood sugar. Foods with these good fats include: avocados, olives, and various nuts (MUFAs); and sunflower/sesame/pumpkin seeds, flaxseed, fatty fish (like salmon, tuna, mackerel, herring, trout), sardines) and non GMO sources of soymilk and tofu (PUFAs).
Omega-3 fatty acids, a type of polyunsaturated fat, play a vital role in emotional health and cognitive function such as memory and problem-solving abilities). Research has shown that they can prevent and reduce the symptoms of depression, attention deficit hyperactivity disorder, and bipolar disorder; protect against memory loss and dementia; reduce the risk of heart disease, stroke, and cancer; ease arthritis, joint pain, and inflammatory skin conditions; and support a healthy pregnancy. While fish is the best source for omega 3 fatty acids, vegetarian sources can include walnuts, flaxseed, Brussels sprouts, kale, spinach and parsley.
Trans fats raise your LDL ("bad") cholesterol and lower your HDL ("good") cholesterol and increases your risk of heart disease, stroke, and diabetes.  Trans fat is found in commercially baked goods, packaged snack foods, solid fats (like stick margarine or vegetable shortening), fried foods, pre-mixed products, and anything with "partially hydrogenated" oil listed in the ingredients. No amount of trans fats is healthy.
With regard to saturated fats, there is ongoing debate about the value versus danger of consuming this type of fat and currently no clear consensus on whether it is safe or hazardous to eat. Saturated fat varies according to its source (ie from coconut oil versus pizza), and furthermore its effects on blood cholesterol appears to vary from person to person, depending on genetics and other health factors.
Unlike trans fat, there's no need for people in good health to fully eliminate saturated fat from the diet. The USDA recommends limiting saturated fat to 20 grams a day for someone on a 2,000 calorie diet. Other experts prefer to focus on the source of saturated fats consumed rather than on specific numbers: A glass of whole milk rather than a hot dog, for example, grilled chicken or fish instead of fried chicken, or a 4 oz. portion of grass-fed beef rather than a processed burger and French fries.
What we do know for sure is that the typical Western diet — filled with fried, processed food, packaged meals, and sugary snacks — is leading to an obesity epidemic in this country with many associated diseases. Eating less manufactured and industrially-processed food and more natural food — i.e. from the ground, the ocean, or small, local farms — is a sound place to start for all your food choices, including dietary fats!
---
Grilled Shrimp and Vegetables with Pearl Couscous
Source: Gourmet June 2006
Ingredients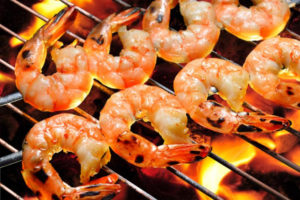 3 tablespoons red-wine vinegar
3 tablespoons chopped fresh oregano
2 tablespoons chopped fresh thyme
1 large garlic clove, finely chopped
1 3/4 teaspoons salt
3/4 teaspoon black pepper
1/3 cup plus 1/4 cup olive oi
2 1/4 cups pearl couscous (sometimes called Israeli couscous; 3/4 pound)
1 3/4 cups reduced-sodium chicken broth (14 fl ounces)
1 cup water
1/4 teaspoon crumbled saffron threads
2 lb large shrimp (21 to 25 per pound), peeled and deveined if necessary
2 medium red onions (1 pound total)
2 pounds large zucchini (about 4), cut diagonally into 1/2-inch-thick slices
6 ounces feta, crumbled (1 1/4 cups)
Preparation
1. Whisk together vinegar, oregano, thyme, garlic, 1/2 teaspoon salt, and 1/4 teaspoon pepper in a small bowl until salt is dissolved. Add 1/3 cup oil in a slow stream, whisking until vinaigrette is combined.
2. Heat 1 tablespoon oil in a wide 3-quart heavy saucepan over moderate heat until hot but not smoking, then toast couscous, stirring occasionally, until fragrant and pale golden, 3 to 5 minutes. While couscous toasts, stir together broth, water, and saffron in a large glass measure. Add to couscous with 1/2 teaspoon salt and bring to a simmer, uncovered. Simmer, covered, until liquid is absorbed and couscous is al dente, 10 to 12 minutes. Remove from heat and let stand, covered, 10 minutes. Stir vinaigrette to combine, then stir 2 tablespoons into couscous and let stand, uncovered, at room temperature.
3. Prepare grill for cooking over medium-hot charcoal (moderate heat for gas).
4. Toss shrimp with 1 tablespoon oil, 1/4 teaspoon salt, and 1/4 teaspoon pepper in a bowl
and thread 4 or 5 shrimp onto each skewer (don't crowd, or shrimp won't cook evenly).
5. Peel onions and trim root ends slightly, leaving ends intact, then halve lengthwise and cut halves lengthwise into 1/2-inch-wide wedges. Insert 1 wooden pick through each wedge to hold layers together while grilling, then put onions in a large bowl with zucchini. Toss vegetables with remaining 2 tablespoons oil, 1/2 teaspoon salt, and 1/4 teaspoon pepper.
6. Grill shrimp skewers on lightly oiled grill rack, covered only if using a gas grill, turning over once with tongs, until just cooked through, about 4 minutes total. Transfer shrimp, discarding skewers, to a clean bowl and toss with 2 tablespoons vinaigrette.
7. Grill vegetables on lightly oiled grill rack, covered only if using a gas grill, turning over once, until just tender, about 5 minutes, transferring to bowl as grilled. Remove and discard picks from onions. Drizzle vegetables with remaining vinaigrette and toss to combine.
8. Spoon couscous onto a large platter or shallow serving bowl. Arrange shrimp and vegetables on top of couscous and sprinkle with feta. Serve warm or at room temperature. Nutritional Facts per serving:
Calories 496
Protein 33g
Carbs 49g
Fat 20g
Save
Save
Save