If You Want to Change Your Life, Start with You
By Kim Thomas
There is nothing worse than looking at someone else's life wishing you could be in their shoes. But here's the thing: your shoes fit just fine; you just need to break them in. If you want to improve your life, you have to start by focusing on yourself. Here are a few simple ways to mold yourself into the person you want to be.
Indulge in a spa day. Take care of your physical and emotional needs by taking a break for a massage, facial, or manicure once a month. If that's out of the budget, DIY your day with a warm bubble bath, face mask, and new color of nail polish.
Add color to your plate. "Eat the rainbow." That's a mantra common off the lips of nutritionists. It means to eat a healthy variety of foods at each meal. Red peppers, orange carrots, yellow bananas, green spinach, blueberries, purple eggplant… Eating this way will help you improve from the inside out.
Eliminate outdated clothing. If your wardrobe is stuck in the 90s or simply doesn't fit your body or lifestyle, it's time change things up. Start by purchasing one new outfit each month and letting go of one that doesn't make you feel your best. Real Simple offers information on how to pick the right clothes for your body type.
Read. Reading opens up a whole new world of possibilities when it comes to self-improvement. Aim for one book each week on a topic near and dear to your heart or one you want to learn more about. For instance, if you aspire to move up the chain of command at work, grab a few books on management. A few suggestions for professional development include Leaders Eat Last and The Lean Startup. If you simply enjoy an escape, select a title in a series so you can follow your favorite characters throughout their journey.
Join a gym. Fitness is paramount to a healthy mind and body, but it's also the fastest track to personal success. The benefits of exercise go far beyond muscle strengthening, too.  Working out can reduce stress while helping your brain balance its production of "feel good" chemicals. And if you're in drug or alcohol recovery, exercise is one of your biggest allies when it comes to staying sober. ADrugRehab explains that exercise "leads to improved sleep, enhanced energy, and an overall sense of well-being" whether someone is in addiction recovery or not.  These factors are all important to being happy with yourself sans substance interference.
Pick up a hobby. Find a hobby you love and participate in it as often as possible. In fact, schedule an hour at least once a week to give yourself a time-out from the world and do something you love. 
Tackle your fears. Entrepreneur insists that you should do one things every day that scares you. Stepping outside of your comfort zone will help you find the courage to live the life you want to live – on your own terms. Talk to a strangers, take the subway alone, travel… do whatever makes you sweat a little.
Embrace your flaws. You're a flawed creature, and that's what makes you you. Learn to embrace those things you perceive as negatives, and know that for each imperfection you think you have, someone else wants that trait.
Write it down. Start a handbook that outlines what you need to do every day to live your best life. Keep up with to-do lists. Write a letter to your future self. When you write things down, you are more likely to do them because they become more than an idea; they become a goal.
While no online blog post can fully motivate you to change directions if you don't like the view, we hope that a few of these suggestions will help you start down the right path. Remember, you are the one in the proverbial driver's seat, and it's up to you whether or not you enjoy the ride.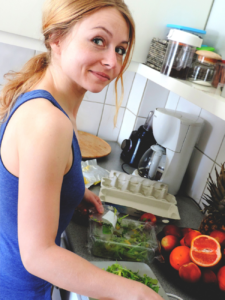 Kim Thomas' mission is aligned with that of US Health Corps, and that is to triumph over chronic disease. Her mission is to advocate for those suffering from chronic disease and enjoys writing about maintaining a healthy lifestyle.