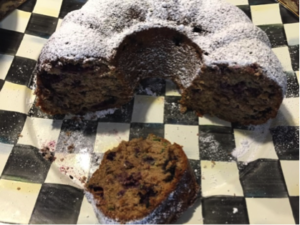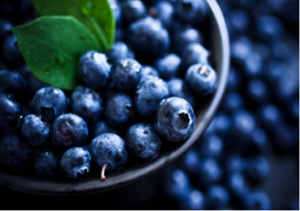 Ingredients:
3 eggs, lightly beaten
½ cup vegetable oil + ½ cup unsweetened applesauce
3 tsp vanilla
1 ¾ cup white sugar
2 cups shredded zucchini
1 ½ cups all-purpose flour + 1 ½ cups whole wheat flour
1 tsp salt
1 tsp baking powder
¼ tsp baking soda
1 Tbsp ground cinnamon
1 pint fresh blueberries

Coating for pan:
1 tsp cinnamon
1 tsp brown sugar
1 tsp while sugar
¼ tsp nutmeg
Directions:
1.) Preheat oven to 375 degrees.
2.) Lightly grease Bundt pan or loaf pans (will make 2 9×5 loaves).
3.) Mix together the ingredients for the coating and sprinkle into the greased pan.
4.) In large bowl, beat eggs, oil/applesauce, vanilla and sugar. Fold in zucchini.
5.) Mix the flour, salt, baking powder, baking soda, and cinnamon.
6.) Beat flour mixture into wet ingredients.
7.) Gently fold in the blueberries. Transfer to prepared baking dish.
8.) Bake 60 minutes or until a knife inserted in the center comes out clean. Cool 20 minutes in pan then turn on to wire rack to cool completely.
9.) Dust with confectioners' sugar before serving.