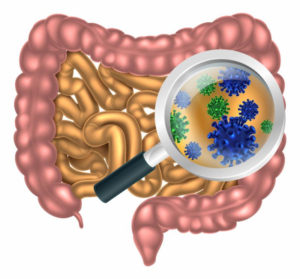 Probiotics are "good" bacteria that help keep your digestive tract healthy by controlling growth of harmful bacteria. There are more than 100 trillion different microorganisms in the gut and their functions are vast, including the promotion of normal gut functioning, regulating metabolism, and constituting 75% of our immune systems! In fact, it is the dysregulation of these bacteria that contribute to many diseases. Studies have shown that diets high in refined carbohydrates, sugars, and processed foods, and diets low in fermentable fibers can destroy our gut bacteria.
Prebiotics are non-digestible or partially digestible food components that support overall health by stimulating the growth and promoting the activity of probiotic bacteria in the large intestine. Also called oligosaccharides, prebiotics are considered food for probiotics and are considered functional foods, so-called because they provide health benefits that go beyond basic nutrition. Working synergistically, probiotics and prebiotics boost both gut and overall body health. Prebiotics occur naturally in a number of common foods with high fiber content such as bananas, onions, garlic, leeks, asparagus, artichokes, soybeans and whole-wheat foods, while probiotics are found in fermented foods like yogurt, kefir, aged cheeses, kimchi, miso and sauerkraut.
Incorporating health-promoting functional foods containing prebiotics and probiotics into the diet potentially aids in maintaining long term digestive health.
Try this healthy one bowl dish loaded with prebiotics!
---
SALMON AND ASPARAGUS FARRO BOWL
Recipe from EatingWell.com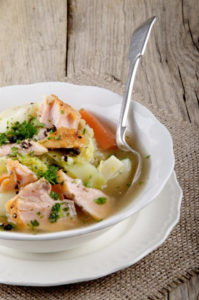 Ingredients
* 3 cups water
* 3/4 cup farro
* 1 tablespoon extra-virgin olive oil
* 2 cups halved and thinly sliced leeks, white and light green parts only
* 1 bunch asparagus, trimmed and cut into 1-inch pieces
* 2 cloves garlic, minced
* 2 cups low-sodium chicken broth or "no-chicken" broth
* 3 tablespoons white miso (sweet and made with soy and rice)
* 1 1/4 pounds wild Alaskan salmon fillet, skinned and cut into 1-inch pieces
* 3 tablespoons very thinly sliced fresh basil
* 1/4 teaspoon pepper
Preparation
1. Combine water and farro in a medium saucepan and bring to a boil over high heat. Reduce heat to medium-low, cover and cook until tender and chewy, about 30 minutes. Drain.
2. About 15 minutes after you start the farro, heat oil in a large saucepan over medium heat. Add leeks and cook, stirring often, until beginning to soften, about 2 minutes. Add asparagus and garlic; cook, stirring, until the asparagus is bright green, about 2 minutes. Add broth and miso; increase heat to high and bring to a boil. Reduce heat to medium and gently stir in salmon. Simmer for 3 minutes. Remove from heat and stir in basil and pepper.
3. Divide the farro among four deep bowls and top with the salmon stew.