Feel the heat with turmeric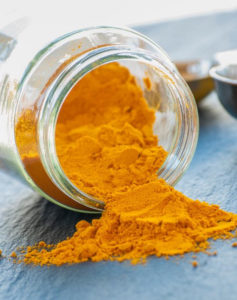 Turmeric has long been used as a powerful anti-inflammatory in both the Chinese and Indian systems of medicine. It has been used throughout history as a condiment, healing remedy and textile dye.
Curcumin, the compound in turmeric responsible for that bright hue, is behind a whole host of the health benefits attributed to the spice. Studies have suggested that the antioxidant and anti-inflammatory properties of curcumin lower cholesterol, delay the progression of diabetes, promote repair of brain stem cells, and combat joint pain.
Preliminary lab and animal studies have also shown promising effects of curcumin in antagonizing cancer cell growth and boosting the effects of chemotherapy.
The best and healthiest way to get turmeric is in food, which is safer than taking poorly studied supplements. It's a quintessential spice in curry, a relative of ginger and one of the healthiest ways to add flavor and color to a home-cooked meal.
Try this delicious Indian dish, my own family's recipe, and celebrate the magic of turmeric!
---
Aloo Gobi (cauliflower with peas and potatoes)
Ingredients:
¼ cup vegetable oil
1 large onion, chopped
1 bunch fresh coriander, washed and roughly chopped with leaves and stalks separately cut
1 small green chili, chopped into small pieces
1 large cauliflower head, chopped
2 large potatoes, cut into even pieces
¼ cup of thawed frozen peas
3 chopped fresh tomatoes
2 inch piece of fresh ginger, peeled and grated
2 cloves of fresh garlic, chopped
1 tsp cumin seeds
2 tsp turmeric powder
2 tsp garam masala (Indian spice)
1 tsp salt
Directions:
Heat oil on medium heat in large saucepan. Add the chopped onion and cumin seeds to the oil. Stir frequently until onion turns golden and translucent. Add the coriander stalks only, salt, and turmeric. Add chili pieces to taste, then stir in the tomatoes. Now add ginger and garlic and stir well until the spices turn fragrant and aromatic, approximately 1 minute.
Add the cauliflower and potatoes, plus 4-5 tablespoons of water for steaming. Stir well to ensure that that the vegetables are coated thoroughly with the curry mixture. Cover the pan and simmer on low for at least 15 minutes. Now add the peas and cook covered another 5 minutes until potatoes are thoroughly cooked through.
Add the garam masala and stir well. Sprinkle coriander leaves over the dish, turn off heat, and keep covered until ready to serve so the vegetables can steam as long as possible.