Pretzels can be a healthy snack, with vitamins, minerals and fiber. They can also be helpful with weight loss because they are low in calories, and are low in saturated and total fat.
Pretzels are one of best snacks when it comes to fat content. A 100 gram serving of hard pretzels, or about 16 pretzels depending on their size, has just 3 grams of total fat and no cholesterol. Furthermore, 88 percent of that fat consists of healthy unsaturated fats that help lower cholesterol. The same portion of potato chips has 36 grams and tortilla chips have 23 grams of fat.
They are also rich in fiber. A 100 gram serving has 3 grams of fiber, which is 8% of the daily recommended intake for me and 12% for women. If you choose whole wheat pretzels, that amount increases to 8 grams.
Hard pretzels have seven to 10 percent of the daily intake of seven minerals, but they're especially high in iron and zinc. Due to their enriched flour content, one serving can provide as much as 20 to 40 percent of the daily intake of riboflavin, niacin and thiamin, and 71 percent of your daily requirement for folate.
The main problem with pretzels can be the extremely high sodium content. Regular hard pretzels have 1,357 milligrams of sodium in a 100 gram serving. That's almost the entire recommended daily intake of 1,500 milligrams! Look for whole wheat and unsalted brands, when possible, or better yet, use my recipe below and make your own!
---
Whole Wheat Chia Pretzels
From Chia: The Complete Guide To the Ultimate SuperFood
By Wayne Coates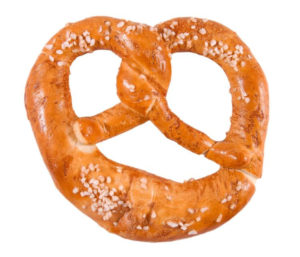 Ingredients
1 package (2 ¼ tsp) active dry yeast
1 ¾ cup lukewarm water
1tbsp honey
4 cups whole wheat flour (plus more if needed)
½ cup chia seeds
1tsp salt
1 egg, lightly beaten
Cinnamon, sesame seeds, and brown sugar for coating (optional)
Directions
Preheat oven to 425 degrees and line two baking sheets with parchment paper. In a small bowl, combine the yeast, water, and honey and whisk to dissolve the yeast. Let stand 10 minutes. The mixture should appear bubbly at the end.
In a large mixing bowl, whisk to combine the flour, chia, and salt.
Add the yeast mixture to the flour mixture and stir until stiff. Transfer to a floured surface and knead until it is smooth and elastic, adding extra flour as needed.
Pinch off golf ball size pieces of dough and roll into ¼-1/2 inch diameter ropes. Form these ropes into pretzels or other shapes and gentle place on a baking sheet. Continue until all dough has been rolled and shaped.
Optional: Brush the tops with the beaten egg and sprinkle with your favorite toppings.
Bake until pretzels turn puffy, about 10-12 minutes, then broil for 1-2 min to get the tops golden. Take care not to over-bake, as this will dry the pretzels out.
Immediately remove from oven and let cool for a few minutes. They can be eaten right away or stored in an airtight container in a cool dry place for up to 3 days
Nutritional Info
Servings: 14
Amount per serving= 1 pretzel
Calories 143.2
Total Fat 2 g
Cholesterol 0
Sodium 167.4 mg
Total Carbs: 28.8 g
Dietary Fiber 6.1 g
Protein 5.6 g