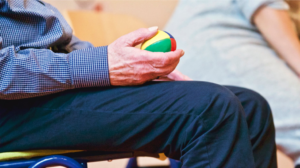 By Sharon Wagner
If you've ever asked yourself "What are my chances of needing — and paying for — long-term care?" then this article is for you. Many seniors find Medicare invaluable when it comes to healthcare coverage, but they are often surprised to learn about critical healthcare needs it does not cover. Long-term care, whether in your home or in an assisted-living facility, is rarely fully covered by Medicare. That means you'll have to make sure you and your family know what your potential costs may be and how to cover them.
When it comes to Medicare and long-term care, you probably have a lot of questions, especially if you're just getting started. However, the sooner you ask, the sooner you'll get answers, and that can go a long way to help you with planning and paying for care during retirement. Here are three questions to help you get on a path to settled and secure long-term care.
How do I know if I'll need long-term care?

There are many ways to assess whether you'll need long-term care, but like all things in life nothing is set in stone. You'll want to examine a few things to get a clear picture of what your future may contain. For example, do you have a family history of illness that required long-term care, like dementia or heart disease? Some studies show that family history is a greater indicator of health needs than genetic testing. You'll also want to survey your house. Do you daily navigate stairs, wet areas or other places that could be a risk for slipping and falling? It's important to address these potential hazards right away. For seniors, more than 70 percent of serious injuries happen within the home.
What other costs should I prepare for?

Everyone knows aging can be expensive. While Medicare will cover many things, there is a gap you'll need to consider. Exploring your options through Medicare Advantage plans can help cover the costs of additional medical needs, like vision and dental care. In fact, one in three seniors takes advantage of these add-on plans for coverage. It's also a good idea to look into purchasing burial insurance. While these topics aren't always easy or comfortable to discuss, you'll have better peace of mind about how your end-of-life care will impact your family. In addition to covering the cost of your funeral or memorial arrangements, burial insurance also often covers outstanding bills and debt.
Do I want to age in-home or in a skilled facility?

This is an important conversation to have with your relatives, as they might have to make some of these decisions for you, and you want and need them to know your preferences. If you aren't sure if you want in-home care or to move into a facility, consider taking a tour of some skilled nursing homes in your area. What do you like about the idea of living there? What scares or worries you? Next, examine your home. Is it safe for aging in place? Will you be able to keep up with maintenance and cleaning? Finally, what can you comfortably afford? Remember, Medicare will not cover all of the costs of long-term care (though there are a few exceptions). Take all of these things into consideration when you have a conversation with your loved ones about your long-term care desires.
Your healthcare is the key to enjoying your golden years. If you are worried about financial or health concerns, you won't be able to get the rest and relaxation you deserve in retirement. Take control of your future by understanding your coverage, your needs and how to fill the gaps. It might be a challenging or intimidating process to start, but you — and your family — will be glad you did.
About the Author: Ms. Wagner is the author of the upcoming books, The Ultimate Guide to Senior-Friendly Workouts, Fitness Gear, Healthy Recipes, and More. She hopes her website and her book can provide inspiration and motivation to seniors seeking optimal health.